FIA Campaign for Safety Required
FIA Action for Road Safety
The FIA's Action for Road Safety is a global campaign, focusing the federation's resources on helping its member organisations around the globe to educate and advocate for safer roads, vehicles and behaviours.
The FIA has a long and distinguished history in promoting road safety. For many years the Federation has lobbied for improved legislation, infrastructure and vehicle safety technologies on an international scale.
Road safety is a global problem with 1.3 million people losing their lives and 50 million others seriously injured annually as a result of road accidents. It is estimated that by 2020 road traffic accidents will claim 2 million lives each year – more then any other global pandemic.
On 11 May 2011 the FIA launched its Action for Road Safety in support of the United Nations' Decade of Action for Road Safety. The FIA's initiative aims to lower the alarming figures associated with global road accidents and to spread the safer motoring message.
The FIA promotes the safe system approach. Our action covers each of the decade's five pillars:
• Management through direct engagement with governments and international institutions.
• Education and training of drivers on the ground through the action of FIA Clubs worldwide.
• Vehicle safety through Euro NCAP and the promotion of test results;
• Infrastructure through clubs' involvement in iRAP programmes (where they are often the lead partner), and strong cooperation with the World Bank and Multi-lateral Development Banks.
• Post-crash care, with cooperation on the ground together with emergency services, lobbying for the eCall service, and work on the ground with the Red Cross.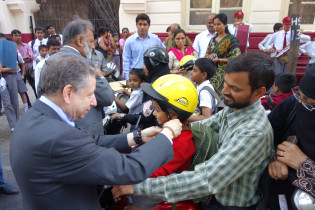 The FIA has been advocating at the highest levels to push leaders to commit to road safety both nationally and globally. This has included strong engagement with international bodies such as the UN, EU, WHO, Multi-lateral Development Banks, ITU, IFRC, ITF and the European Commission and meetings with Heads of State around the world.
The FIA has called for:
– Inclusion of road safety as part of the Sustainable Development Goals post-2015;
– The setting up of an innovative financing mechanism for road safety on the model of UNITAID and the contribution on plane tickets.
– Leaders to prioritise road safety at the national level (introducing when necessary effective legislation, dedicated strategies, and national agencies), and to commit to putting the issue at the top of the global agenda.
The FIA has been supporting action by the 236 FIA Member Clubs worldwide to educate and advocate for safer roads, vehicles and behaviour on the ground. So far, more than 90 road safety projects have been supported by the FIA Grant Programme in cooperation with the FIA Foundation in over 50 countries.
The FIA has entered a number of commercial partnerships as well with leading companies such as Michelin, Schuberth, Iveco and Total.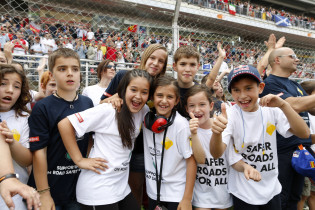 The FIA Action for Road Safety campaign has been enthusiastically championed by the motorsport community and well-known figures including Sebastian Vettel, Emerson Fittipaldi, Michael Schumacher, Sébastien Loeb, Yvan Muller and Monisha Kaltenborn who have fiercely backed the campaign's simple message of safer motoring and safer road use.
The campaign has also received endorsements from heads of state, leaders and international opinion formers such as the President of Brazil Dilma Rousseff, World Health Organisation (WHO) Director-General Margaret Chan, Archbishop of Capetown Desmond Tutu, Inter-American Development Bank (IDB) President Luis Alberto Moreno and United Nations (UN) Secretary-General Ban Ki-moon.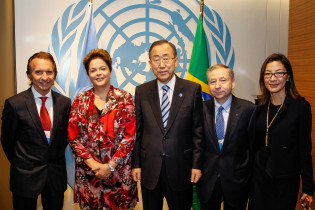 The FIA is also promoting 10 Golden Rules for Safer Motoring, a set of simple tips intended to help motorists improve their driving behaviour. These rules hope to assist motorists in reaching a golden standard of motoring and to remind them of their responsibilities to themselves, their passengers and all other road users.
Download the FIA Golden Rules in one of our 27 languages:
FIA GOLDEN RULES
I WANT TO BE SAFE 
I PROMISE TO:
BELT UP 
All passengers are my responsibility 
RESPECT THE HIGHWAY CODE 
My car is made of metal, pedestrians and children are not 
Rules are there to protect us all 
OBEY THE SPEED LIMIT 
CHECK MY TYRES 
DRIVE SOBER 
When I am drunk or on drugs, I am a danger on the road.
Calling and texting make me dangerous.
Getting there late is better than not at all.
PROTECT MY CHILDREN 
Keep them safe in car seats. 
PAY ATTENTION 
STOP WHEN I'M TIRED
WEAR A HELMET
BE COURTEOUS AND CONSIDERATE 
Respect other drivers.